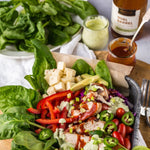 Rye Whiskey BBQ Sauce 
 
1 cup ketchup  
2 tablespoon coarse grain mustard 
1 tablespoon brown sugar 
1 garlic clove, smashed  
1 clove fresh garlic, minced 
1 ounce Heritage Distilling Rye Whiskey (aged in orange extract barrels) 
1 tablespoon soy sauce 
1 tablespoon Worcester sauce 
1 teaspoon cracked black pepper 
1 teaspoon onion powder 
1 teaspoon hot sauce 
2 tablespoons apple cider vinegar   
Pinch of red chili flakes 
Kosher salt to taste  
 
Whisk all the ingredients together and simmer on the stove top in a sauce pan over medium heat 5-7 minutes to meld all the flavors and cook off the raw taste of the rye whiskey. Slather on all your favorite BBQ dishes! 
Made by our friend Danielle Kartes from Rustic Joyful Food!