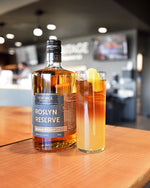 What's the Tea? 
2 oz HDC Roslyn Reserve
1 oz Simple Syrup
1 oz Lemon Juice
2 Dashes Black Lemon Bitters
Combine ingredients into an ice filled shaker. Shake and strain into Collins glass filled with ice. Top with Ice Tea. Garnish with Lemon Peel and a Cherry Flower Garnish. 
Enjoy with friends while getting all the details about anything juicy going on in the world.
Cheers!