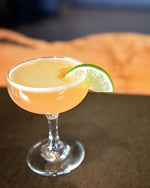 A summertime favorite back for round two! 
Ship Wrecked
1 oz HDC Sweet Ghost Pepper Vodka
1 oz HDC Mango Vodka
.5 oz Cranberry Juice
.5 oz Lime Juice
.5 oz Mango Habanero Syrup
Add ingredients to an ice filled shaker. Shake and strain into a Coupe glass. Garnish with a lime wedge. 
Cheers!