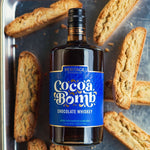 Cocoa Bomb Chocolate Whiskey Semolina & Almond Biscotti 
Prep time 15 minutes 
Bake time 45-55 minutes
Yields 12-16 cookies
Cookie dough 
1/2 cup melted butter (10-15 seconds in the microwave) 
1 cup sugar 
3 eggs 
1 teaspoon vanilla 
Pinch of salt 
2 tablespoons Heritage Distilling Cocoa Bomb Chocolate Whiskey 
1 cup sliced almonds 
1/2 cup semolina flour 
2 3/4 cups flour 
1 teaspoon baking powder 
Optional: 10 ounces melted dark chocolate for dipping
Preheat oven to 325 degrees F. Cream the butter, sugar, and eggs until light and creamy, about 2-3 minutes. 
Add vanilla, Cocoa Bomb Chocolate Whiskey, and salt. Mix to incorporate. 
Add almonds, flours, and baking powder. Mix until well combined, but don't over mix. 
Line a baking sheet with parchment, and turn the dough out onto the sheet. Pat gently to form one long loaf of dough roughly 14-16 inches long and 5-6 inches wide. Bake 30 minutes. 
Remove the loaf and allow to cool 5-6 minutes before using a long knife to cut the loaf gently into 12-16 cookies. 
Lay each cookie on its side and bake another 20 minutes, flipping the cookies midway through. 
Cool completely to achieve that signature crisp crunch. The centers will be a bit soft if eaten warm. These are perfect for dunking in coffee, tea, or hot chocolate! 
Optional: Melt the chocolate in 30 second bursts and gently dip half the biscotti into it lengthwise. Flip the biscotti chocolate side up onto a sheet tray, and allow the chocolate to set.
This tasty treat would make a great gift idea for those Holiday party hosts, or a co-worker in the Secret Santa. 
Thanks to Danielle from Rustic Joyful Foods for creating this tasty treat! We wouldn't mind dipping this into a Cocoa Bomb Coffee or Hot Chocolate all winter long!