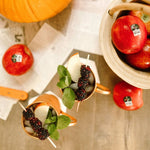 Ingredients:
2 oz. Heritage Distilling Bourbon Whiskey
5-6 fresh blackberries
½ lime, plus wedge for rim
1 oz. apple cider
4-5 oz. ginger beer
Fresh mint sprigs (garnish)
JUICI apple slices (garnish)
Instructions:
Toss blackberries into the bottom of a chilled copper mug followed by Heritage Distilling Bourbon Whiskey, lime juice and muddle fruit into mixture.
Squeeze juice from lime into glass, followed by crushed ice.
Pour ginger beer and a dash of apple cider and stir lightly to combine flavors. Garnish with a lime wedge, fresh mint, JUICI apple slices and additional blackberries. Enjoy!