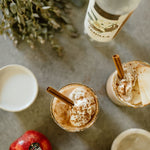 Ingredients:
Rim
1 teaspoon apple pie spice
1 tablespoon brown sugar
1/3 cup crushed graham crackers
Instructions:
Mix the apple pie spice, brown sugar and graham cracker crumbs in a plate. Dip two glasses in water followed by the graham cracker mixture. Set aside.
Pour Heritage Distilling Vanilla Vodka, vanilla cinnamon creamer and Kahlua into a cocktail shaker filled with ice. Shake until combined and cold.
Pour into glasses and top with whipped cream, apple pie spice and JUICI apple slices.