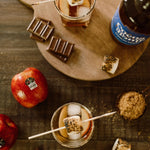 Ingredients:
1/2 cup brown sugar
1 cup water
Dash of cinnamon
1 sliced JUICI apple
8-10 marshmallows
Fresh JUICI apple slices for garnish
1/4 cup graham cracker crumbs mixed with 1 tbsp summer for rim
Instructions:
In a saucepan, heat water, brown sugar, cinnamon and JUICI apple slices on low heat until sugar is dissolved and JUICI apples are soft and fragrant. Add marshmallows and increase the heat, stirring the marshmallows frequently until they're creamy and dissolved, careful not to burn.
Strain the apple marshmallow simple syrup into an airtight container or mason jar, removing the soft leftover apple slices. Set aside to cool.
Dip glasses into water followed by the graham cracker crumb sugar mix.
In a glass add Heritage Distilling Cocoa Bomb Whiskey. Stir in 1-2 oz. of apple marshmallow simple syrup to taste. Note: this is a very sweet dessert cocktail, so use less simple syrup for a less-sweet desired flavor.
Add ice, garnish with fresh JUICI apples slices, a roasted marshmallow and enjoy!