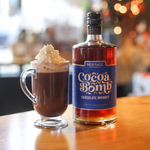 Classic Cocoa but all grown up. The perfect companion to those Hallmark movie binges.
Cocoa Bomb Hot Chocolate
2oz Cocoa Bomb Whiskey
6oz Hot Chocolate
Garnish options: Peppermint Stick or Candy Cane, Marshmallows, Whipped cream, the possibilities are endless. 
Add the hot chocolate of your choice to mug, mix in Cocoa Bomb Whiskey, top with marshmallows and stir with peppermint stick.
We topped ours with some whipped cream!