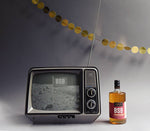 OUT-OF-THIS-WORLD On July 20, 1969, Neil Armstrong and Edwin "Buzz" Aldrin were the first humans to land on the moon. This event is commemorated as one of the most exciting milestones in human history and a significant milestone for science research. Though we have come a long way since 1969, this event remains a vital piece in our American heritage. We pride ourselves through overcoming challenges and this achievement proves to be a piece of heritage we can still truly be proud of. To honor the 50th Anniversary of the Apollo 11 Moon Landing we celebrate the way we know...
---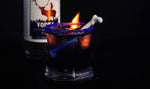 Make sure you are serving the best Boos in your Halloween party cocktails this year! Impress your guests with these spooky, creepy and really cool drinks. This first cocktail, The Poison Apple, is just about the prettiest one around! Edible shimmer (easily found at Michaels or Hobby Lobby) gives it a magical look. I'm even thinking a little name change (perhaps Holiday Shimmer??) and minus a floating plastic spider or two and it's perfect for Christmas! Poison Apple 2os BSB Brown Sugar Bourbon 2oz Apple Cider 2oz Cranberry Juice 1/4t Edible Shimmer (found at your local craft store) Add all...
---

[vc_row][vc_column][vc_column_text]Although most people believe daylight saving (not savings) time was created to help farmers, it was first enacted in 1918 as a way to save coal. The farmers actually fought it because it meant they had less daylight time in the morning to milk their cows! I often feel like fighting it as well. Who wants to get up an HOUR earlier? That first Monday morning wake up can be brutal and you feel it all day long. I am much more partial to that wonderful day we call 'Fall Back'. To help us all out we collected our favorite...