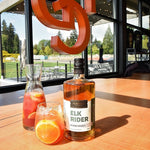 Ask our fearless CEO, Justin, what his perfect menu pairing is and he would say Sangria and a pretzel. The man's a fan of sangria, what can we say?
2 oz Elk Rider Blended Whiskey
2 oz Jammy Vermouth
4 oz Grenadine
2 oz Orange Juice
8oz Sparkling Wine
Served in a Carafe with stemless wine glasses over ice with lemon and orange wheels. 
Make it at home with our Whiskey Sangria Cocktail Kit!