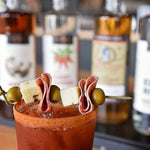 Did you know that airports serve more Bloody Mary cocktails than any other drink?
We've always been fans around here since the early days of our favorite football team's 12th fan moment and we especially love working with our friend Demitri's to make our signature versions.
1.5 oz Demetris Vodka 
(alternatives: Bacon Vodka, Sweet Ghost Pepper Vodka, Elk Rider Vodka)
8 oz Tomato Juice
.75 Demitris Mix
Classic Mary: salted rim Extra Mary: Bacon salted rim
Add ingredients to ice-filled shaker. Shake to combine and chill. Salt the rim of pint glass, fill with ice, strain ingredients. Whether you're a "Go Sports!" fan, or just enjoying a delicious cocktail, we love the Bloody Mary for a classic cocktail. 
Garnish with meats, cheese, olives. If you're at home, we highly suggest adding a slice of bacon. Maybe a cheeseburger slider... totally up to you.