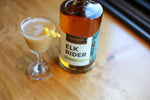 Did you know our Elk Rider Rye is considered a "High Rye." The mash bill for this product has 95% rye, making it a spicy treat for our Rye lovers. Find this Rye in our Trinidad Sour with Bitter Housewife Aromatic Bitters, Liber Orgeat, lemon juice and twist. More trivia for you: Orgeat is almond, adding such a yummy sweet nutty flavor to the cocktail.
Trinidad Sour:
1 oz. Elk Rider Rye
4 dashes The Bitter Housewife Aromatic Bitters
.25 oz. Liber & Co. Orgeat Syrup
.25 oz. Lemon Juice
In a shaker: combine all ingredients with ice and shake for 15-30 seconds. Using a Hawthorne strainer, strain ingredients into a cocktail goblet. Garnish with a lemon twist.