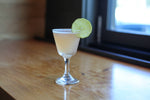 Both our Hibiscus Vodka and Elk Rider Gin come to play in the Hibiscus Chill. You will also find Liber Pineapple Gum, Bear Roots Lemony Snicket Bitters, and lemon juice. What is Pineapple Gum? This fun syrup brings the tropics to your glass adding a great richness.
Hibiscus Chill:
.75 oz. Hibiscus Vodka
.25 oz. Elk Rider Gin
.25 oz. Liber & Co. Pineapple Gum Syrup
.5 oz. Lemon Juice
2 dashes of Bear Root Lemony Snicket Bitters
In a shaker: combine all ingredients with ice and shake for 15-30 seconds. Using a Hawthorne strainer, strain ingredients into a cocktail goblet. Garnish with a lime wheel.