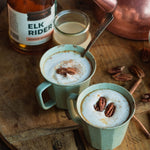 Spiked Pecan Pie Apple Cider 
Prep time 5 min 
Cook time 3-5 min 
Makes 2 cocktails 
Cocktail 
16 ounces apple cider (2 cups) 
2 ounces pecan liqueur, or pralines & cream liqueur 
2 ounces Heritage Distilling Elk Rider Bourbon Whiskey 
1/2 cup soft whipped cream (see recipe) 
Toasted pecans for garnish 
Dash of cinnamon for each cocktail 
Soft whipped cream 
2 cups heavy whipping cream 
1/4 cup sugar 
1 teaspoon vanilla 
Pinch of salt 
Heat the cider in a kettle or small sauce pan on the stove top. In the bottom of a large mug, place 1 ounce of the pecan or praline liqueur and 1 ounce of the bourbon whiskey. Pour the cider over the bourbon whiskey in each mug. Top with a few dollops of soft whipped cream and toasted pecans. Sprinkle cinnamon on top. 
To whip the cream, beat the heavy cream and sugar 4-5 minutes until soft peaks begin to form. Add the vanilla and salt, then continue to whip until you've reached your desired consistency. 
Enjoy! 
Thank you Rustic Joyful Food!