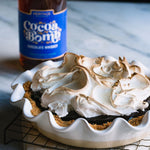 Cocoa Bomb Chocolate Whiskey Cream S'mores Pie 
Prep time 10 minutes
Cook time 20 minutes
Cooling time 4 hours
Yields 1 9-inch pie
Chocolate custard filling  
1 cup of sugar 
1/2 cup unsweetened cocoa powder 
Pinch of salt 
2 ounces dark chocolate 
1/4 cup cornstarch 
3 egg yolks 
2 cups milk 
1 cup heavy cream 
1 teaspoon vanilla 
3 tablespoons of Heritage Distilling Cocoa Bomb Chocolate Whiskey 
2 tablespoons of butter 
Graham crust 
11 graham crackers 
6 tablespoons of melted butter 
1 tablespoon of sugar 
Pinch of salt 
Marshmallow meringue top 
3 egg whites 
Pinch of salt 
1 cup sugar 
To make the custard filling:
In a saucepan over medium heat, combine sugar, cocoa powder, salt, dark chocolate, and cornstarch. 
Whisk the egg yolks into the milk and cream, and slowly stream this mixture into the chocolate mixture.
Whisk continually until it thickens but does not boil, about 5-6 minutes. Turn off heat and set aside. 
Add the vanilla, whiskey, and butter, then stir until glossy and well-combined. 
To make the crust: 
Pulse all ingredients in a food processor, then press into your 9-inch pie plate. Bake 10 minutes at 350 degrees F.  
To make the marshmallow meringue top: 
Combine egg whites and salt in the work bowl of your stand mixer (or use a hand mixer) and beat on medium-high speed 7-8 minutes. Gradually add the sugar, and mix until glossy stiff peaks form and the granulated sugar can no longer be felt between your fingers when touched. 
To assemble the pie, pour the hot custard into the warm crust, and chill at least 4 hours or overnight before adding the meringue top. When ready to serve, make the meringue and top the chilled pie. Use a torch or broiler to toast the edges. Serve immediately. This pie keeps well up to 3 days in the refrigerator. 
Holiday preparation is well under way, and this tasty treat will be the perfect addition to your holiday table-scape. Serve with a Cocoa Bomb coffee night cap for delicious results. 
Thank you Danielle at Rustic Joyful Foods for this holiday delight!