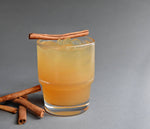 BSB Cider
1.5 - 2 oz BSB - Brown Sugar Bourbon
4 oz Fresh Pressed Apple Cider
Splash of Lemon Juice
Seasonal spices
Cinnamon stick garnish

Stir together BSB, apple cider and lemon juice. Season with your favorite fall spices (we recommend cinnamon, cloves, and star anise). Great to drink hot or iced.

For an extra kick, try with BSB 103 .