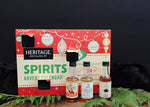 Here's how to play:
Put the numbers 1-24 in a bowl and have your guests pick and open that numbers window. Then they get to make a cocktail out of whatever product they end up with. Have a selection of common mixers and garnishes handy- club soda, sprite, tonic, cranberry juice, oj, lemon and lime wedges, etc
Step up your party game and make it a 'cocktail making contest'. After your guests have picked a number and pulled out a bottle let them go to town! Get even more creative with your cocktail supplies: bitters, mango juice, pineapple juice, hot cider, cocoa or coffee. Bring out some flavored creamers like Hazelnut or peppermint. Whoever wins gets a prize- their very own Advent Calendar!
Dump all the bottles into a bowl and let your guests make their own cocktails. Give them the option to pick their own favorite spirit. You will be surprised at who loves what!