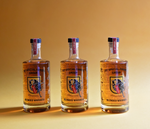 Heritage Distilling Co. is proud to partner with the 1st Special Forces Group (1SFG) for the 5th year in a row. This year's release of the 5th Edition Special Forces Whiskey celebrates the 75th Anniversary of Special Forces Menton Week.
$25 dollars of every bottle purchased goes to the following charities: 1st Special Forces Group GoldStar Families, Chapter XVI SFA Scholarship Program, Special Forces Association Chapter XVI. Since the programs' inception in 2014, HDC has donated over $100,000+ to these great causes.
This year's 2019 5th Edition bottle is a limited release with 500 bottles sold to the public. To celebrate its uniqueness and set itself apart from the rest, the 2019 version is a blended whiskey. Historically, past bottles have been bourbon whiskeys. 1SFG Blended Whiskey will be available in all WA tasting rooms beginning December 6.
Purchase a bottle online or stop by one of our tasting rooms to give it a try and to purchase your limited edition Special Forces Whiskey!
2019 Special Forces Blended Whiskey