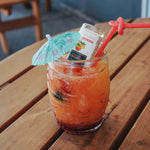 Boozy Slushie Cocktails are all the rage right now, and for obvious reasons. They are refreshing, easy to make, and are a fun alternative to the traditional on-the-rocks libation. The best part? Once prepared, you can enjoy the prepared frozen cocktail mixture for up to a week. 
Ingredients:
HDC Mango Vodka
HDC Bloody Orange Vodka
Mango Juice
Lemonade
Preparation:
In a sealable container, mix well equal parts HDC Mango Vodka, Mango Juice Lemonade. Freeze overnight. Remove from freezer when ready to serve. If necessary, use a spoon or scoop to loosen the frozen cocktail mixture. Scoop into a martini glass and drizzle with HDC Blood Orange Vodka for lava effect.