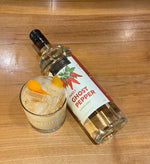 Sweet up front, slightly spicy in the back, the Horchata Fria cocktail is both refreshing and intriguing. The delicious flavors of horchata are enhanced by the sweet heat of the Sweet Ghost Pepper Vodka. 

1.5 oz Sweet Ghost Pepper Vodka
1/2 oz Torani Cinnamon Syrup 
1/2 oz Horchata Concentrate
4 dashes Bitter Housewife Cardamom Bitters
Orange
In a shaker with ice, combine all ingredients and shake thoroughly. Strain into a tumbler with fresh ice. Garnish with fresh grated cinnamon and an orange twist.