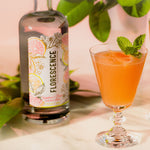 Ingredients
1 ounce Florescence Grapefruit & Pomelo Vodka
2 ounces fresh squeezed grapefruit juice
Squeeze of lemon
Splash of simple syrup (optional)
3-5 ounces of Prosecco or champagne
Garnish
1 thin slice of grapefruit
1 sprig of fresh mint
Method
Pour Florescence vodka, fresh grapefruit juice, simple syrup, and squeeze of lemon juice into a cocktail shaker filled with one cup of ice.
Shake vigorously to chill the contents.
Strain into a French-style wine glass, then float the Prosecco or champagne on top to fill the glass.
Garnish and enjoy!