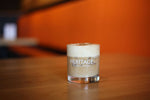 DRUNKEN PUMPKIN COLD BREW
1 1/2 oz Dual Barrel (Vanilla) Bourbon
1 oz HDC Vanilla Vodka
2 oz Cold Brew Coffee (any brand)
2 oz Sweet Cream Coffee Creamer (any brand)
1 Pump of Pumpkin Spice Syrup (any brand)
Pumpkin Spice Seasoning
In a shaker: Combine Dual Barrel (Vanilla) Bourbon, HDC Vanilla Vodka, and Cold Brew Coffee with ice. Shake well for 15-30 seconds and pour mixture over fresh ice in a tumbler glass.
In a separate glass: Combine Sweet Cream Coffee Creamer and 1 pump of Pumpkin Spice Syrup together.
Use a milk frother or hand whisk to whip it to a foam consistency.
Pour created foam over initial mixture and top with a dash of Pumpkin Spice Seasoning.