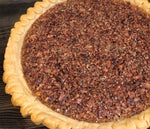 Easy Bourbon Chocolate Pecan Pie
Preheat Oven to 375 degrees
Ingredients:
1 ready-made deep dish pie crust
2 cups pecan halves
3 eggs
3 T BSB - Brown Sugar Bourbon
3/4 C Dark brown sugar
2/3 C Corn syrup
1 tsp Vanilla extract
2 tablespoons unsalted butter
.5 tsp salt
1 C semisweet chocolate chips
*note* for a holiday festive flare, after baking, sprinkle lightly with edible gold dust to make it sparkle!
Toast the pecans for about 7 minutes. Let cool to touch, then chop.
Melt butter.
Combine eggs, BSB - Brown Sugar Bourbon, corn syrup, brown sugar, vanilla extract, melted butter, and salt until well blended.
Add pecans and chocolate chips to the mixture.
Pour the filling to the unbaked pie shell.
Bake for approximately 25 minutes, then remove and tent the crust with foil to prevent over-browning of edges.
Bake an additional 25-30 minutes, or until the center of the pie is set and not jiggly.
Remove pie from oven and allow to cool on a cooling rack.
Serve with your favorite whipped cream or vanilla ice cream.
Thanks to Holly Jubera, owner of Thacker Mountain BBQ Supply, for this amazing recipe!