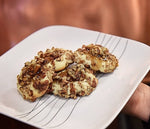 BSB Caramel Pecan Thumbprint Cookies
10 Tbs Butter, softened
.5 C Sugar
2 egg yolks
1 t vanilla
1.5 C flour
1 C finely chopped pecans
2 egg whites
In large blow beat butter and sugar until combined. Beat in egg yolks and vanilla until combined. Add flour and beat until smooth. Cover and chill for 1-2 hours.
Preheat oven to 375. Shape cookie dough into 1-inch balls. Roll in egg white then roll in chopped pecans. Place on greased cookie sheet. Using your thumb, make an indent in the center of each ball. Bake 10-12 minutes or until bottoms are light brown. If centers puff up re-press with a spoon.
Filling
1 C Brown Sugar
4 Tbs butter
.25 C corn syrup
1 C finely chopped pecans
2-4 Tbs BSB - Brown Sugar Bourbon
In medium sauce pan measure brown sugar, butter and corn syrup and cook over med heat until the mixture starts to bubble. Stirring constantly continue cooking until the mixture is clear and holds shape, about three minutes. Add the BSB Brown Sugar Bourbon and cook one minute longer. Remove from heat. Add pecans.
Spoon the caramel mixture into the centers of the cookies. Cool.
Serve with a cup of coffee with a shot of BSB - Brown Sugar Bourbon topped with whip cream and sprinkled with cinnamon.