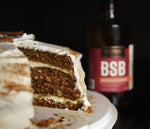 BSB - Brown Sugar Bourbon Applesauce Torte
Grease and flour coat two 9" cake pans. Preheat oven to 350 degrees.
Sift together in large mixing bowl:
3 cups flour
2 cups sugar
2 teaspoon soda
2 teaspoons salt
2 teaspoons cinnamon
1 teaspoon clove
Combine in a small bowl:
2 cups applesauce
¾ cup oil
2 eggs
Add wet ingredients to dry ingredients and mix on medium speed for three minutes.  
Pour batter into prepared cake pans bake at 350 degrees for 45 minutes. Cool on wire rack.
To assemble Torte, you will need two 8 oz tubs of mascarpone cheese and prepare the BSB - Brown Sugar Bourbon syrup, apple filling and whipped cream icing.
BSB - Brown Sugar Bourbon Syrup
Mix in small saucepan ½ cups water and 1 cup sugar. Bring to boil on medium-high heat. Turn down to low and simmer for five minutes. Add ¼ cup BSB - Brown Sugar Bourbon and simmer one minute. Remove from heat.
Apple filling
In medium saucepan melt two tablespoon butter. Add 2/3 cup brown sugar and 2/3 cup finely chopped tart apple, ¼ cup chopped pecans if desired. Cook on low for five minutes until thick.  
Assembly:
Using a sharp bread knife cut the cake rounds in half making four rounds. Lay one round on a cake plate drizzle ¼ cup of syrup over cake. Spread one 8 oz tub of mascarpone cheese on the cake layer. Place next cake layer on top of cheese, drizzle ¼ cup syrup on cake. Spread apple filling on cake layer. Place nest cake layer on top of apple filling then drizzle with ¼ cup of syrup. Spread one 8 oz tub of mascarpone cheese. Before placing final cake layer on the cheese drizzle with remaining syrup. Place on cake. Cool for one hour.
After the torte has chilled prepare icing.
Icing
Whip with electric mixer 1 cup heavy cream in bowl until it resembles whipping cream. Add 1 cup sifted powdered sugar mix for one minute. Add 2 oz BSB - Brown Sugar Bourbon for flavor. Spread icing on torte. Garnish with cinnamon sticks and lightly dust with ground cinnamon and chopped nuts if desired. Chill for two or more hours before serving.