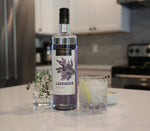 Looking for a quick and refreshing cocktail for summer, spring or fall? This libation is simple to make and only consists of four ingredients which can be kept on hand year round.

Not only is the lavender color of this drink visually intoxicating, it lends itself to the aromatic flavors present within - lavender, thyme and lemon. The club soda provides a light and crisp taste that also enhances the fresh notes of citrus and herbs.

Make one for yourself or batch it for your summer BBQ, bridal shower, anniversary or birthday.

Thyme for Lavender
2 oz HDC Lavender Vodka 
3 oz club soda
fresh thyme
lemon wheel

Combine vodka and soda over ice in a tumbler or highball glass. Garnish with fresh sprig of thyme and a lemon wheel.