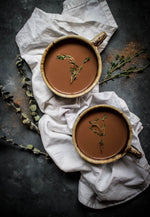 Recipe by
What Do You Crave
3 oz BSB 103 - Brown Sugar Bourbon 103
140g.(5 oz.) Thyme Chocolate (or any 60% cacao chocolate bar you prefer)
4 Cups almond milk
2 Tbsp Sweet is the Spice Cocoa Dulce
A couple sprigs of thyme
Combine all ingredients except the bourbon in a saucepan over medium-low heat.
Stir continually as chocolate melts.
When chocolate melts reduce heat and cook another 1-2 minutes.
Turn off the heat and add in bourbon.
Strain hot chocolate into mugs and garnish with thyme and a sprinkle to Cocoa Dulce if desired.