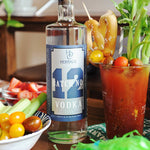 Boozy Tomato Bombs
1 pint of cherry tomatoes
1 cup HDC Sweet Ghost Pepper Vodka or Batch No.12 Vodka
1 Tablespoon Worcestershire sauce
1-2 Tablespoons Franks hot sauce
Dipping salt:
2 Tablespoons lemon pepper seasoning salt
2 teaspoons celery salt

Poke a couple small holes into each cherry tomato with a toothpick. Place them in a sealable jar. In a small bowl, mix together vodka, hot sauce, and Worcestershire sauce. Pour over tomatoes and seal. Place in refrigerator and let marinate for at least 2 hours and up to overnight.