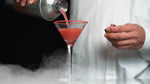 2 oz HDC Blood Orange Vodka
.25 oz Grenadine
.5 oz Lime Juice
2 oz Cranberry Juice

Add ice to a shaker, pour in all ingredients. Shake until cold and strain into a martini glass.
For a spooky take on this drink, rim your martini glass in red sugar (cranberry is our favorite) and garnish with a plastic spider. We call it Dracula's Revenge!