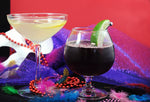 [vc_row][vc_column][vc_column_text]Mardi Gras (aka Fat Tuesday) was traditionally a pagan celebration of spring and fertility. Eventually religious leaders turned it into a prelude to Lent. A time to feast and celebrate and binge on all of the wonderful foods you had so they wouldn't go to waste when Lent started. Sounds like a good idea!
Although the height of Mardi Gras celebrations occur on a Tuesday a lot of celebrations, balls, parades and festivities start the week before. Here are a couple of our favorite Mardi Gras cocktails for you to serve at your own celebrations.[/vc_column_text][/vc_column][/vc_row][vc_row][vc_column width="1/2"][vc_column_text]Cajun Lemonade 
1oz HDC Sweet ghost Pepper Vodka
2oz Lemonade
Dash of tabasco
Put all ingredients in a shaker over ice, shake then pour into glass. Garnish with lemon
Fun fact: every wonder what those bead colors mean?
Purple=Justice
Gold=Power
Green=faith[/vc_column_text][/vc_column][vc_column width="1/2"]
[/vc_column][/vc_row][vc_row][vc_column width="1/2"]
[/vc_column][vc_column width="1/2"][vc_column_text]VooDoo King Cocktail
1.5 oz Elk Rider Vodka
1oz Grape soda
1.5oz Limeade
Garnish with lime
Fun Fact #2: Not only is it illegal to NOT wear a mask if you are on a parade float, it is also illegal to pee on anyone who is passed out on the street. You will be arrested for either offense. Good to know…[/vc_column_text][/vc_column][/vc_row]