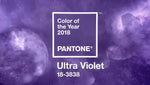 [vc_row][vc_column][vc_column_text]The PANTONE® name is known worldwide as the ultimate authority on color. They forecast color trends across the world and advise designers, manufacturers, retailers and individuals on color communication. Every year Pantone chooses a 'Color of the Year'. This year they have chosen Ultra Violet 18-3838.
"Complex and contemplative, Ultra Violet suggests the mysteries of the cosmos, the intrigue of what lies ahead, and the discoveries beyond where we are now. The vast and limitless night sky is symbolic of what is possible and continues to inspire the desire to pursue a world beyond our own."[/vc_column_text][/vc_column][/vc_row][vc_row][vc_column width="1/2"]
[/vc_column][vc_column width="1/2"][vc_column_text]Wow! Ultra Violet sounds very impressive. To celebrate we have decided to highlight our very own HDC Huckleberry Vodka, huckleberries and their many shades of violet.
Huckleberry Press
2oz HDC Huckleberry Vodka
2oz Sprite
2oz Club soda
Pour over ice in large glass. Garnish with lime & huckleberries[/vc_column_text][/vc_column][/vc_row][vc_row][vc_column width="1/2"]\
[/vc_column][vc_column width="1/2"]
[/vc_column][/vc_row][vc_row][vc_column width="1/2"][vc_column_text]Huckleberry Mule
2oz HDC Huckleberry Vodka
Top with Ginger Beer
Squeeze of Lime
In a copper mug, pour all ingredients over ice, squeeze in lime juice and stir. Garnish with additional lime wedge.[/vc_column_text][/vc_column][vc_column width="1/2"]
[/vc_column][/vc_row][vc_row][vc_column]
[/vc_column][/vc_row][vc_row][vc_column width="1/2"]
[/vc_column][vc_column width="1/2"][vc_column_text]Huckleberry Coconut Sour
1oz HDC Coconut Vodka
1oz HDC Huckleberry Vodka
1/2oz Fresh Lemon Juice
1/2oz Egg White
Lemon
Pour all ingredients over ice in shaker. Shake and pour into coupe glass. Garnish with lemon wheel.[/vc_column_text][/vc_column][/vc_row][vc_row][vc_column]
[/vc_column][/vc_row]