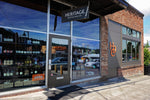 A NOTE FROM JENNIFER & JUSTIN
With so much uncertainty around the developments of Coronavirus (COVID-19) we want to assure our loyal customers of the extra steps we are taking to keep Heritage Distilling Co. tasting rooms clean. While, we have always had a robust cleaning process, we know that with increased national coverage natural anxieties can also rise. Our hearts go out to those who have been impacted.
We understand that everyone is in a different place when it comes to what is best for them and their family, but we are a small business and depend on our customer's support for our continued success. We ask one simple thing if you are not sick and feel comfortable venturing out; consider coming to visit us at one of our 6 tasting rooms for a fun Spring Bevanda or to pay a visit to your Cask. Of course, we encourage you to take home a bottle of our award-winning spirits for a weekend cocktail as well.
We are proud to operate bright, clean, inviting and safe spaces for all customers to enjoy our products in with the company of family and friends and are equally as committed to protecting public health. For this reason, we have undertaken internal steps to increase cleaning procedures in our tasting rooms like:
Placing extra focus on wiping down frequently touched surfaces such as door handles, cash registers, seats, stools, tabletops and countertops.
Hand-washing all cocktail glassware, shot glasses and serving trays thoroughly before running them through additional sanitation.
Encouraging staff to wash hands before, after and in between interactions with customers.
If you aren't near one of our tasting rooms, please support the many liquor stores, bars and restaurants that carry our products (including BSB®-Brown Sugar Bourbon) nationwide.
America runs on the strength of its small businesses. Right now, our country could use some good news, and our friendly staff would love to pour you a drink.
Thank you for being a valued Heritage Distilling Co. fan.
We hope to see you soon.
- Jennifer & Justin Stiefel
President & CEO of Heritage Distilling Co.