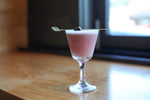 Sunset Sour:

1 oz Dual Barrel Orange Rye
1/2 oz Lemon Juice
1/4 oz Maraschino Cherry Syrup
1/4 oz Egg White


Directions:
In a tumbler with ice, add all ingredients and shake well for 10-15 seconds. Using a Hawthorne Strainer, strain ingredients into a chilled coupe glass. Garnish with a maraschino cherry and enjoy!