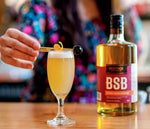 Ginger Sour
Recipe:
2 ounces BSB Brown Sugar Bourbon
¾ ounce lemon juice
¼ ounce ginger syrup
½ ounce egg white
2-3 dashes aromatic bitters
Method:
Combine all ingredients, except bitters, in a cocktail shaker with ice
Shake to chill and combine ingredients
Strain out ice
Shake again to further emulsify concoction
Strain into a cocktail glass
Dash bitters on top
Garnish & Enjoy!
To find more delicious recipe's head to Beautiful Booze. Thank you Natalie and James!