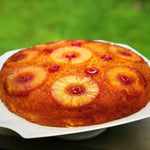 BSB Pineapple Upside Down Cake
* 2C BSB Brown Sugar Bourbon
* 1 box yellow cake mix 15.25 oz
* 3 tbsp butter melted
* 1 cup brown sugar
* 8-10 pineapple slices
* 8-10 maraschino cherries
* 1 cup pineapple juice
* 1/3 cup vegetable oil
* 3 eggs
Instructions
The very first thing I did was soak the pineapple rings and cherries in a container of
BSB Brown Sugar Bourbon
for a few hours.
•get your smoker setup to cook at 350 degrees
•Pour three tablespoons of melted butter into the bottom of your 12″ skillet
•sprinkle 1 cup of brown sugar over top of the butter. Make sure the butter and brown sugar mixture covers the entire bottom of your skillet
•Place pineapple slices on top of the brown sugar mixture, and then place one cherry inside each of the pineapple slices. Don't discard the juice
•Prepare the cake mix per the instructions on the side of the box, but replace the water with the reserved pineapple juice.
• Thoroughly mix the batter, and then pour it over the pineapples and cherries. Put the skillet in your hot smoker, and let it cook 40 mins.
•The cake is done when a toothpick can be inserted in the center and pulls out clean.
•When the cake is done remove it from the smoker and let it cool for ten minutes.
•Run a spatula around the outer edge of the cake, and then place a large cutting board on top of the skillet. Carefully flip the skillet and cutting board (to make the skillet upside down!) Tap on the top of the skillet a few times to make sure the cake has come out, and then remove the skillet.
Thank you so much to Josh Green from
Pop Pop's BBQ  
for sharing this delicious recipe!