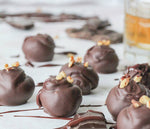 BSB Bourbon Chocolate Truffles
1 1/2 cup semi-sweet chocolate chips
1/2 cup heavy cream
1/4 tsp salt
1/4 cup BSB - Brown Sugar Bourbon
1/2 tsp vanilla extract
1 cup bittersweet chocolate chips (for the coating)
1 Tbs butter (for the coating)


Directions:

Add the semi-sweet chocolate chips and heavy cream to a large heat proof mixing bowl, and microwave on high for one minute. Stir well, until the mixture is smooth. You can microwave in additional 15 second increments as needed.

Once chocolate is completely melted, stir in the salt, Brown Sugar Bourbon and vanilla extract.

Put the chocolate mixture in the fridge and let set for 1.5-2 hours. Spread a piece of wax or parchment paper on a baking sheet. I like to store my baking sheet in the fridge ahead of time, so it's cold for the next step. Take the chocolate mixture out of the fridge, and roll balls (approximately 2 tsp per ball) with your hands.

If you notice that your chocolate is melting and hard to form, you can always put the mixture back into the fridge and let it reset.

Place each truffle ball on the lined baking sheet. When you've formed all of the truffles (I usually get around 25), place them back in the fridge on the baking sheet.

Melt the bittersweet chocolate and butter together, in the microwave (using increments again so the chocolate doesn't burn). Stir until chocolate and butter mixture is blended and smooth.

Dip each truffle ball into the bittersweet chocolate mixture. You can use a fork for this, and they also sell special chocolate dipping tools.

Put the truffles back in the fridge again until the chocolate sets - about 30 minutes. These can be served cold or room temperature, but should be stored in the fridge and eaten within a week.
Thanks to This Celebrated Life for this delicious recipe!