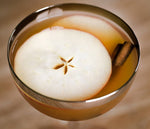 BSB103 Appletini
1 oz. BSB103 Brown Sugar Bourbon
3/4 cup fresh pressed apple cider
Squeeze of lemon
Splash of apple liqueur  
1 cup of ice
Sliced apple for garnish
Cinnamon sticks for garnish

Place all the ingredients except the sliced apple and cinnamon stick into the martini shaker. Shake vigorously and pour into martini or coupe glasses. Garnish with apple and cinnamon sticks.
Thanks to Rustic Joyful Food for this amazing cocktail!