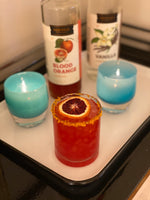 Bee Mine Recipe 
½ oz Fresh Lemon Juice 
½ oz Fresh Blood Orange Juice 
½ Once Honey Syrup 
Honey 
Orange Zest 
Dehydrated Orange Slice. 
Zest an orange and let zest dry for 10 -15min. Prepare the glass by dipping the rim in honey. Tanke the honey rim and touch the orange zest to coat the rim of the glass. Add ice to the glass. 
Combine all the ingredients into a shaker with ice. Shake until cold and strain into the glass that has been coated with the honey and orange zest. Garnish with the dehydrated blood orange slice. 
Cheers! 
Thank you to Ben at the Bar for creating this delicious beverage.