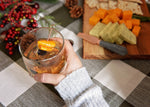 We know that Thanksgiving is going to look a little different this year. However, that doesn't mean that you can't still celebrate with some delicious drinks and dinner recipes.
While you may just be entertaining one or two people this year, you can still spice (or spike) up your celebration at home.
Here is a list of our favorite boozy food recipes to keep you satisfied all night long!


Appetizer: 
Whiskey Meatballs
1 bag Frozen Meatballs (26 oz)
0.5 C Ketchup
0.5 C BSB - Brown Sugar Bourbon
1 tsp Fresh Lemon Juice
1 tsp Worcestershire Sauce
 
In a medium bowl, combine all ingredients except your meatballs. Whisk with a bar whip. Place your frozen meatballs into your crockpot and pour the whiskey sauce on top. Give a good mix to assure each meatball is coated with the whiskey sauce.
Turn up the heat to high and leave it on high for about an hour, stirring a couple of times in between.
---
Main Thanksgiving Style Dish:
Seasoned Mashed Potatoes & Gravy
2 tbsp of D's Seasoned Vodka
Spice up your traditional mashed potato recipe by adding a splash of D's Seasoned Vodka to both your potatoes & gravy sauce. Whisk well and serve hot.
Cranberry Sauce
12oz Fresh Cranberries
0.5 oz Peeled Granny Smith Apple, finely chopped
1 C Sugar
Orange peel
0.5 C Juice of 1 fresh orange
0.5 C HDC Blood Orange Vodka
0.5 tsp Cinnamon
0.5 tsp Nutmeg
2-3 Cloves
Put all ingredients in pot, simmer on the stove over low heat until cranberries burst and liquid reduces.
Boozy Bird
1 C Melted Butter
1 tbsp Oregano
1 tbsp Thyme
1 tbsp Sage
1 tbsp Poultry seasoning
0.75 C Elk Rider Bourbon or D's Seasoned Vodka
Mix all ingredients in a bowl. Using a pastry brush, brush ingredients all over outside of turkey. Then, gently separate the skin from the meat of the bird and brush the seasoning mixture between the two layers. Cook your turkey as per weight instructions and baste every 30-45 minutes.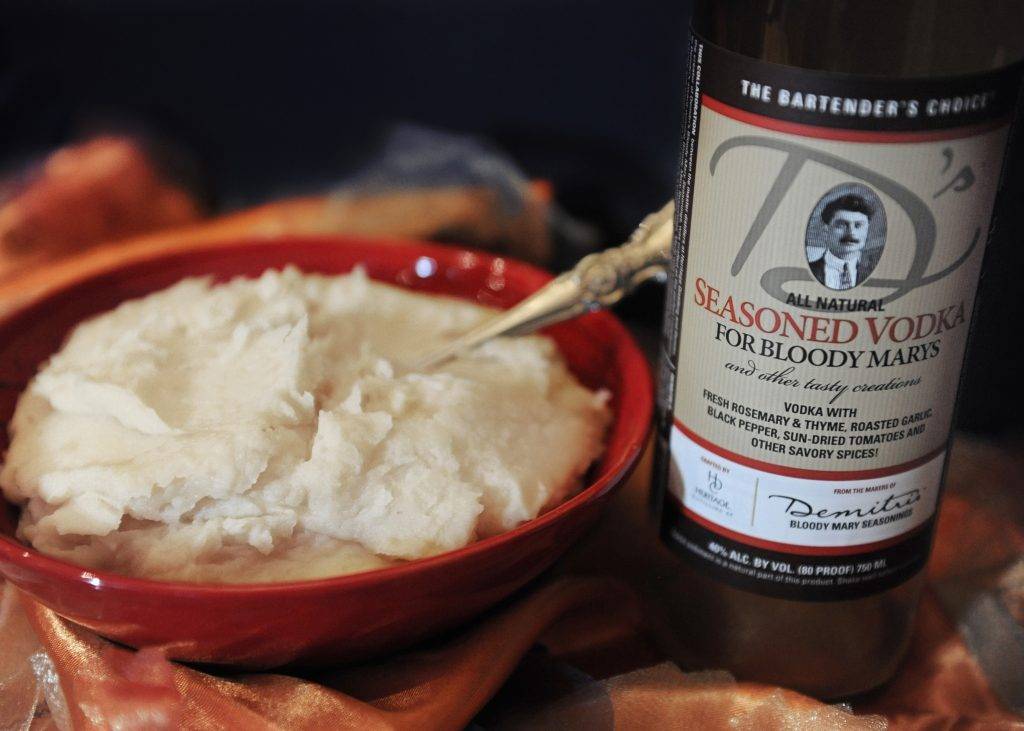 ---
Dessert:
Drunkin Pumpkin Cold Brew Cocktail– A fan favorite in our Tasting Rooms, this delicious cocktail is now easier than ever to make at home with our "Drunken Pumpkin Cocktail Kit". Featuring BSB – Brown Sugar Bourbon, HDC Vanilla Vodka and a pumpkin spice foam topping, this creamy and delicious cocktail is the perfect treat to cap off your night.
1 1/2 oz BSB® - Brown Sugar Bourbon
1 oz HDC Vanilla Vodka
2 oz Cold Brew Coffee (any brand)
2 oz Sweet Cream Coffee Creamer (any brand)
1 Pump of Pumpkin Spice Syrup (any brand)
Pumpkin Spice Seasoning
In a shaker: Combine BSB, HDC Vanilla Vodka, and Cold Brew Coffee with ice. Shake well for 15-30 seconds and pour mixture over fresh ice in a tumbler glass.
In a separate glass: Combine Sweet Cream Coffee Creamer and 1 pump of Pumpkin Spice Syrup together.
Use a milk frother or hand whisk to whip it to a foam consistency.
Pour created foam over initial mixture and top with a dash of Pumpkin Spice Seasoning.