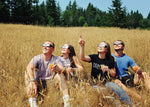 [vc_row][vc_column width="1/2"][vc_column_text]
Raise your hand if you're ready to get mooned!
On Monday, August 21st the U.S. will experience a Total Solar Eclipse for the first time since 1979. For most, this is likely the first event of it's kind in our lifetime - hooray - so we wanted to ensure everyone is properly prepared for this momentous event.
To do so, we've condensed all you need to know about getting ready for the solar eclipse down to five essential steps:[/vc_column_text][/vc_column][vc_column width="1/2"][/vc_column][/vc_row][vc_row][vc_column][vc_column_text]
#1 Get your glasses
Rule number one is 'don't look directly at the sun'. The eclipse is only safe to look at once the moon has fully covered the sun. Until then, you'll need some fancy Eclipse Glasses so you can watch the eclipse safely.
#2 Get your blanket
Every good eclipse watch party requires a comfy blanket to perch your rear end on. Make sure you grab one with equal amounts of softness and durability for those hard surfaces. You might be there a while.
#3 Get your spot
Our guess is you'll be able to see the eclipse from anywhere you can see the sun...but here are some viewing spot suggestions: a local park, open fields, the roof of your house, and on top of a butte or mountain. Of course, use caution if climbing on top of tall structures and try not to trespass.
#4 Get your people
No one wants to watch an eclipse alone so make sure you gather up some friends and family. Can't decide? Ask yourself 'Who would I want to experience total darkness with most?' and go from there. Just make sure there are enough blankets, glasses and booze for everyone.
#5 Get your cocktail supplies
You don't want to be empty handed when the eclipse happens, so make sure you've got something delicious to cheers with.
Shop online
or stop into any of our
tasting rooms
to pick up your eclipse party cocktail supplies and spirits. Here are our recommendations for the perfect eclipse drinks:[/vc_column_text][/vc_column][/vc_row][vc_row][vc_column width="1/2"][vc_column_text]
[/vc_column_text]
[/vc_column][vc_column width="1/2"][vc_column_text]
[/vc_column_text]
[/vc_column][/vc_row][vc_row][vc_column][vc_column_text]Cheers to a safe and exciting Total Solar Eclipse! Make sure you share your eclipse party experience and cocktails with us on social media #hdceclipse.[/vc_column_text][/vc_column][/vc_row]