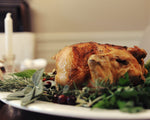 [vc_row][vc_column][vc_column_text]Boozing up your poultry
Thanksgiving is almost here and it's a fun time to get fancy with your turkey. And the good news is, if you find turkey's intimidating, this recipe works for chicken, Cornish game hens, duck- really any kind of poultry will do!
My favorite version of a boozy bird is using the new HDC Demitris Seasoned Vodka. The flavorings this vodka has work perfectly into a traditional turkey baste. Seasonings include: Rosemary, Thyme, Roasted Garlic, Black Pepper and Sun-dried Tomato's.[/vc_column_text][/vc_column][/vc_row][vc_row][vc_column width="1/2"][vc_column_text]
Boozy Bird Recipe
1 C melted Butter
1T Oregano
1T Thyme
1T Sage
1T Poultry seasoning
3/4C ElkRider Bourbon OR Demitris Seasoned Vodka
Mix all ingredients in a bowl. Using a pastry brush, brush ingredients all over outside of turkey. Then, gently separate the skin from the meat of the bird and brush the seasoning mixture between the two layers.
Cook your turkey as per weight instructions and baste every 30-45 minutes.[/vc_column_text][/vc_column][vc_column width="1/2"]
[/vc_column][/vc_row][vc_row][vc_column][vc_column_text]
Tip: For a guaranteed moist and tender turkey breast I like to cover the entire bird with foil during the first hour of cooking. Next, remove all foil except what is covering the turkey breast. Then, during last hour of cooking remove all foil and get that bird golden brown and tasty looking![/vc_column_text][/vc_column][/vc_row]