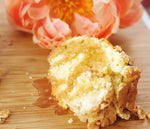 Brown Sugar Bourbon Cake
By Gwyn Nielsen, Sparkling Charm
Yields: 1 10-inch cake
Cooking time: 2 Hours
Ingredients
1 cup unsalted butter, softened
2 1/2 cups white sugar, sifted
1 cup brown sugar, separated into 1/2 cup
3 cups Swans Down bleached cake flour, sifted twice
1/4 teaspoon baking soda
6 large eggs, room temperature, yolks and whites separated
8 ounces whole sour cream
1/2 teaspoon vanilla extract
1/2 cup Heritage Distilling BSB Brown Sugar Bourbon, plus 1 tablespoon for batter
Directions
Pre-heat the oven to 350° F. Grease and flour a 10-inch bunt pan and set aside.
Beat the softened butter at medium speed with an electric mixer for 3 minutes, or until pale yellow and creamy. Gradually add the white sugar and 1/2 cup brown sugar to the butter at medium speed for 7 minutes.
In a medium-sized bowl, sift the twice-sifted Swans Down cake flour with the baking soda. Slowly add the sifted flour-soda mixture to the butter mixture, 1 cup at a time mixing at medium speed. (The batter will be thick like sugar cookie dough.)
Add the room temperature egg yolks to the batter one at a time and mix until combined.
Set the mixer to low speed and add the sour cream, vanilla and 1 tablespoon Heritage Distilling BSB. Stop the mixer the minute it is well combined — the batter will loosen with this step.
Using a hand-held mixer in a separate bowl, beat the egg whites until stiff peaks form. Gently fold the egg whites into the batter.
Pour the batter into the prepared pan carefully, placing in the oven for 2 hours or until a knife comes out clean.
Cool in the pan on a wire rack for 15 minutes. Remove the cake from pan and cool completely on the wire rack.
In a saucepan combine the remaining 1/2 cup Heritage Distilling BSB with remaining 1/2 cup brown sugar and cook at medium heat until the sugar dissolves. Remove from the heat and spoon over the cake to enjoy.