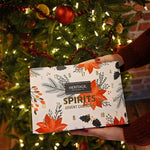 Our Spirits Advent Calendars are back for 2021! With a beautiful new design and award winning whiskeys, vodkas, gins and rum, we are excited to offer the only U.S. made Spirits Advent Calendar once again.
This favorite holiday countdown adds a little bit of "spirits" to your already spirited holiday gatherings and gifting.
Bring Heritage Distilling home for the Holidays.  
Countdown to Christmas by popping open the square for the day and seeing what is inside. Each calendar has products randomly placed so you'll be truly surprised and delighted each day of December.
Each Spirits Advent Calendar includes 24 - 50 ml bottles of:
Cocoa Bomb Chocolate Whiskey™ (2)
BSB® Brown Sugar Bourbon (2)
Elk Rider Vodka (2)
Elk Rider Gin (2)
Elk Rider Bourbon (2)
BSB 103® (2)
Commander's Spiced Rum™ (2)
Dual Barrel Collection Vanilla Finished Bourbon (2)
Coffee Flavored Vodka (2)
Huckleberry Flavored Vodka (2)
Blood Orange Flavored Vodka (2)
Lavender Flavored Vodka (2)
Cheers to a very spirited holiday season!