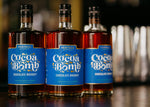 We are excited to formally release our newest product - Cocoa Bomb Chocolate Whiskey
Driven by HDC's love of whiskey and chocolate, our team set out to make the best-tasting flavored whiskey on the market.
"We've built a reputation for creating some of the best tasting flavored whiskies across the globe, along with our other collection of award-winning spirits. Our team is always working on innovation and applying our collective experience and learnings from the last several years and watching market trends. The response during blind samplings among consumers and guests in our tasting rooms further cements this belief by our team" stated HDC's CEO and Co-Founder, Justin Stiefel. He added, "given our track record of proven success in the flavored whiskey space, we knew we needed to elevate the bar if we were going to release a new product in this highly competitive category."
Bottled at 75 proof and naturally flavored with cane sugar, this whiskey is extremely smooth and carries notes of cocoa, dark chocolate, semi-sweet chocolate and a hint of marshmallow. Join us in an HDC tasting room today to try Cocoa Bomb in a spirits flight and enjoy special Cocoa Bomb featured cocktails such as the Choco Strawberry Bomb and Cocoa Old Fashioned.
Cocoa Bomb Chocolate Whiskey is available in 750 ml and 50 ml size formats and will retail in the HDC tasting rooms and online for an introductory price of $29.95/750ml and $2.95/50ml, and regular HDC Tasting Room pricing will be $35.00/750ml and $3.50/50ml.
Follow @cocoabombwhiskey on instagram to receive the newest updates on all things Cocoa Bomb.
View the full press release.