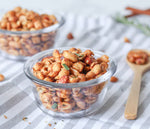 Sweet & Spicy Bourbon Peanuts
1 tablespoon butter, melted
2 tablespoons packed brown sugar
2 tablespoons BSB - Brown Sugar Bourbon
1/4-1/2 teaspoon cayenne pepper, depending on desired spiciness
1/4 teaspoon ground cinnamon
1/2 teaspoon garlic powder
1 tablespoon chopped fresh rosemary
2 cups unsalted peanuts

Directions:

Preheat the oven to 350 degrees F, and line a baking sheet with parchment paper. Combine all ingredients except the peanuts in a large mixing bowl, stirring until sugar is dissolved. Add the peanuts and stir to evenly coat. Spread the peanuts evenly and in a single layer onto the prepared baking sheet. Bake for 10 minutes, or until fragrant. Allow to cool for a few minutes, and then gently break the nuts apart with your fingers. Serve warm or at room temperature. Store in an airtight container, and eat within a week!