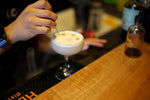 Lavender Sour
This tasty cocktail highlights what is possible with Lavender Vodka, always a popular choice in our tasting rooms.
0.75 oz Elk Rider Gin
0.75 oz HDC Lavender Vodka 
0.5 oz RAFT Demerera Syrup 
0.5 oz Lemon Juice
0.5 oz Egg Whites 
1 Dash Scrappy's Lavender Bitters
1 Dash Scrappy's Orleans Bitters
Dry shake for 5 seconds
Add ice, shake for 10 seconds and mesh strain into a chilled coupe glass. Garnish with a lemon twist.