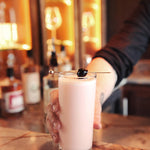 Cranberry Lemon Ramos Fizz
2 oz Elk Rider Crisp Gin
1 oz heavy cream
1/2 oz cranberry simple syrup or 1oz CranRaspberry Juice
1 oz Meyer lemon juice
1 egg white
2-3 dashes of orange bitters
1 oz soda water
Add all ingredients except for soda water into a shaker cup without ice. Shake without ice for 30 seconds. Add ice and shake, shake, shake and shake some more! After about 5 minutes (trust us!) strain into a glass. Top with soda water. Garnish with sugared cranberries.