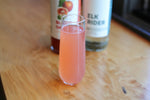 Perfectly balanced and ready to sip. This spring cocktail is topped with sparkling wine to give it a little extra burst.
C'est La Vie
1 oz. Elk Rider Gin
0.5 oz. Blood Orange Vodka
0.5 oz. RAFT Citrus Rosemary Syrup
0.25 oz. Lemon Juice
Sparkling Wine
In a shaker: combine all ingredients with ice except the sparkling wine and shake well for 15-30 seconds. With a Hawthorne Strainer, strain ingredients into champagne flute. Top with sparkling wine or champagne.