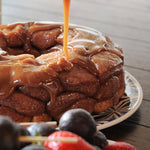 BSB Bourbon Monkey Bread

BSB Brown Sugar Bourbon Sauce
3 cups sugar
⅔ cup water
1 cup heavy cream
6 tablespoons maple syrup
½ cup BSB Brown Sugar Bourbon
6 tablespoons cold butter, cut into small cubes
1 teaspoon vanilla extract
Flaky sea salt, to taste
In a medium saucepan over medium-high heat, combine the sugar and water, and bring to a boil. Boil for 5 to 7 minutes until deep amber in color. Remove from the heat and slowly whisk in the cream.
Return the pan to medium-high heat, then stir in the maple syrup and bourbon. Cook at a low boil for 1 minute, until a thick, smooth sauce forms. Remove from the heat and add the butter and vanilla, whisking until smooth. Season with salt
Bread
½cup granulated sugar
2 teaspoon ground cinnamon
2cans (12 oz each) Pillsbury™ refrigerated biscuits
Heat oven to 350°F. Spray 12-cup fluted tube cake pan with cooking spray.
In 1-gallon food-storage plastic bag, mix granulated sugar and cinnamon. Separate dough into biscuits. Cut each biscuit into quarters. Shake in bag to coat; place in pan. Bake for 30-35 minutes until golden brown and no longer doughy in the center. Let sit for 5-10 minutes then remove from pan, onto a serving dish.
Pour BSB Bourbon Sauce over biscuit pieces.