Bring Heritage home for the Holidays! Here are our top four choices for the whiskey-lover on your list whether they enjoy the classic on the rocks sipper, or a little extra flavor to their favorite brown spirit. One thing is certain, you will melt into this new and exciting experience, becoming your newest chocolate craving. Don't you worry, Cocoa Bomb is here to stay.   Bottled at 75 proof and naturally flavored with cane sugar, this whiskey is extremely smooth and carries notes of cocoa, dark chocolate and a hint of marshmallow. Enjoy this delightfully flavorful spirit as a Cocoa...
---
There is still time to celebrate summer! We've got the perfect pairing to celebrate National S'mores Day, or as we are calling it: National Cocoa Bomb & S'mores WEEK. (We decided to take matters into our own hands to celebrate.) Your new tradition around the firepit: Cocoa Bomb Whiskey from Heritage Distilling Company. Drink it as a shot, sip it over ice, or paired alongside your summer s'mores. There's no rules for how to enjoy Cocoa Bomb Whiskey. To enter:   Cocoa Bomb & S'mores Good luck! Cheers to S'mores Season!
---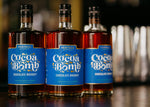 We are excited to formally release our newest product - Cocoa Bomb Chocolate Whiskey Driven by HDC's love of whiskey and chocolate, our team set out to make the best-tasting flavored whiskey on the market. "We've built a reputation for creating some of the best tasting flavored whiskies across the globe, along with our other collection of award-winning spirits. Our team is always working on innovation and applying our collective experience and learnings from the last several years and watching market trends. The response during blind samplings among consumers and guests in our tasting rooms further cements this belief by...